In 1908, Yerkes and Dodson experimented on mice, chicks, kittens and men. They found that with a certain amount of pressure present, an individual's performance will improve.
Once the pressure becomes too great for the individual, the performance tails off and the pressure becomes counter productive and stress results.
There is a point where pressure produces optimum performance; whereas at the extremes, too litle or too much pressure or high anxiety stress lead to low performance levels.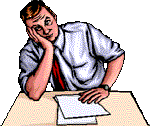 This means that if you get too much or too little to do, too often for too long, with little or no reward, you could suffer from stress and become ill.